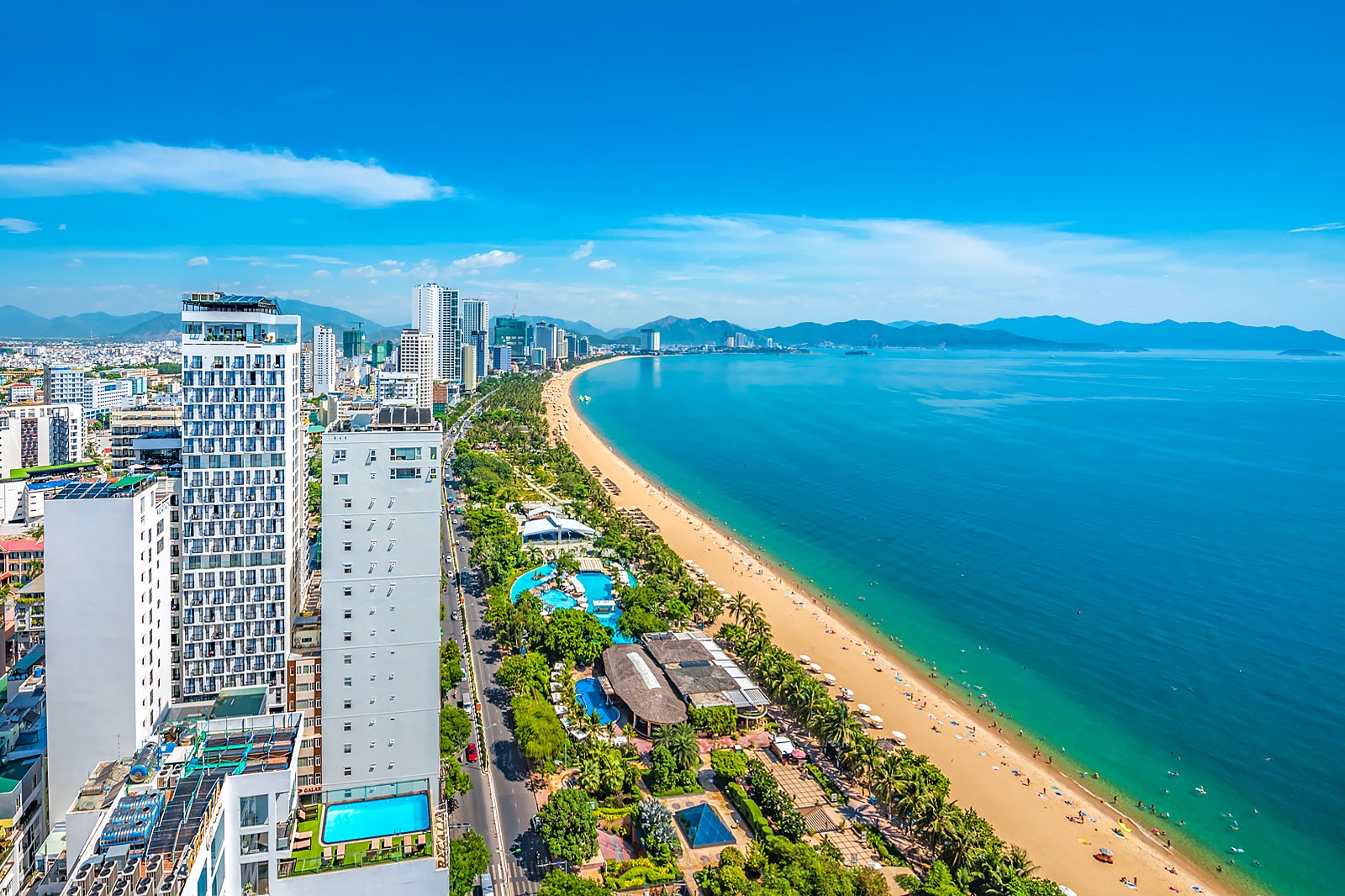 If you're planning to travel by train from Ho Chi Minh (Saigon) to Nha Trang, you'll be covering a distance of approximately 411 kilometers. This particular route is serviced by six trains: SE2, SE4, SE6, SE8, SE22, and SNT2, all of which are part of the Reunification Express train. You have the option to choose from various seat types depending on your preference.
The trains on this route operate daily, departing from either Saigon or Nha Trang. The journey typically takes around 7.5 to 8 hours, regardless of whether you're traveling from Saigon to Nha Trang or vice versa. During the trip, you can enjoy the comfort of air-conditioned carriages and cabins, regardless of the seat type you choose.
Speaking of seat types, there are several options available. You can opt for a hard seat, which offers a basic level of comfort, or a soft seat, providing a more cushioned experience. If you prefer a sleeping arrangement, there are hard berths and soft berths available. The hard berths consist of six berths in a cabin, while the soft berths offer four berths in a cabin. Regardless of the seat type or berth you choose, you can rest assured that all the carriages and cabins are equipped with air conditioning to ensure a comfortable journey.
Is it worth going to Nha Trang?
Nha Trang, without a doubt, ranks high among the must-visit destinations in Vietnam. If you're planning a trip to this captivating coastal city, there are a few important questions you should consider to ensure you're well-prepared. Let's delve into the key aspects: its location, weather, famous tourist attractions, and specialties.
Firstly, let's talk about Nha Trang's location. Situated on the picturesque coastline of Vietnam, it offers breathtaking views of the South China Sea. This idyllic city can be found in the southern part of the country, specifically in the Khanh Hoa province.
Next up, the weather in Nha Trang is something you should definitely take into account. Known for its tropical climate, the city enjoys warm and sunny weather for a significant part of the year. The average temperature ranges from 25 to 30 degrees Celsius (77 to 86 degrees Fahrenheit). However, it's important to note that Nha Trang experiences a rainy season, typically from September to December, so it's wise to pack accordingly.
Moving on to the famous tourist attractions, Nha Trang offers an array of captivating sights. One of the highlights is undoubtedly its pristine beaches with crystal-clear waters and fine golden sands. Among the popular ones are Tran Phu Beach, Nha Trang Beach, and Doc Let Beach. Moreover, Nha Trang is renowned for its vibrant marine life, making it a fantastic destination for snorkeling and scuba diving enthusiasts. Don't miss the chance to explore the mesmerizing underwater world at Hon Mun Island or Nha Trang Bay.
Lastly, Nha Trang boasts some delightful specialties that will tantalize your taste buds. Seafood lovers are in for a treat, as the city is known for its fresh and delectable seafood dishes. From succulent grilled fish to mouthwatering shrimp spring rolls, you'll have plenty of culinary delights to savor. Additionally, Nha Trang is famous for its bird's nest soup, a delicacy cherished for its health benefits and unique.
How many days do you need in Nha Trang?
"How many days should you spend in Nha Trang?" Well, the ideal duration to explore the highlights of Nha Trang is around 3 days. Within this timeframe, you can immerse yourself in the city's charm and experience its main attractions.
However, if we were to rethink our own trip, we realized that even 2 days in Nha Trang would have been sufficient. This would give you enough time to cover the key sights and make the most of your visit. On the other hand, if you desire a more relaxed and immersive experience with further exploration, extending your stay to 4 days or more would be a great option. You can take your time, soak up the atmosphere, and delve deeper into all that Nha Trang has to offer.
It's worth mentioning that while Nha Trang has its own appeal, it tends to receive mixed reviews from travelers. Situated along the South Central Coast, it has become a popular destination for Russian, Chinese, and local Vietnamese tourists. As you stroll around, you'll notice signs in both Vietnamese and Russian languages, reflecting the diverse crowd that frequents the area. Moreover, Nha Trang is often referred to as the bigger, more lively counterpart of Mui Ne, another beach area located closer to Ho Chi Minh City. With an abundance of beaches, lively parties, and vibrant nightlife, Nha Trang offers a dynamic atmosphere for those seeking excitement.
However, if you're looking to explore other Vietnam beach cities, we would recommend considering destinations such as Danang, Phu Quoc, or the Con Dao Islands. Each of these places has its own unique charm and attractions, providing alternative experiences that might suit your preferences.
In summary, spending 3 days in Nha Trang is sufficient to enjoy the city's highlights, but 2 days can also be enough. If you desire more relaxation and further exploration, extending your stay to 4 days or more is a great option. Just keep in mind that Nha Trang caters to a diverse range of tourists and offers a vibrant atmosphere with its beaches, parties, and nightlife. And don't forget to explore other beach cities in Vietnam for a well-rounded experience.
What is the best month to go to Nha Trang?
When it comes to the best time to visit Nha Trang, you'll find that the period between February and May offers delightful weather and pleasant temperatures. During this time, the average mean temperature hovers between 26 and 27 degrees Celsius, creating a comfortable environment for exploration and outdoor activities.
If you happen to be a diving enthusiast, you'll be glad to know that the peak diving season in Nha Trang spans from January to October. However, if you want to experience the absolute best conditions for diving, with clear waters and vibrant coral-rich dive sites, then April to August is the ideal time. During these months, the rainfall is at its lowest in Nha Trang, ensuring excellent visibility and an unforgettable underwater adventure.
By planning your visit during the recommended timeframe, you can make the most of Nha Trang's favorable weather conditions and indulge in various outdoor pursuits, whether it's exploring the city's attractions or diving into the stunning marine world beneath its surface.