Is Thanh Hoa Worth Visiting? Exploring the Undimmed Beauty of Thanh Hoa Province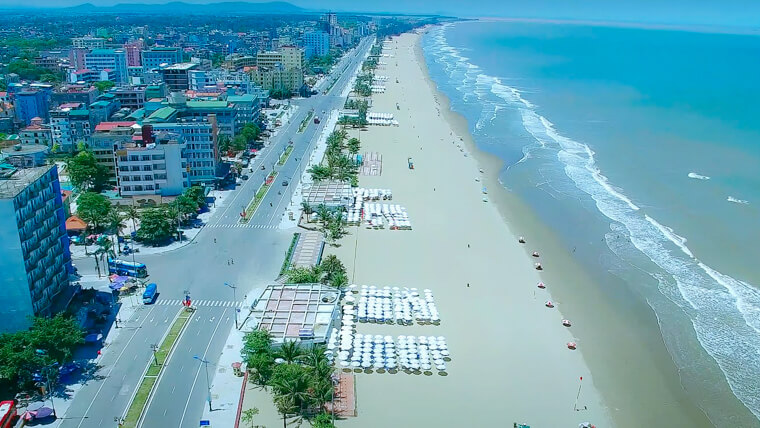 Introduction:
When it comes to exploring the hidden gems of Vietnam, Thanh Hoa Province stands out as a destination that should not be missed. Nestled in the heartland of Central Vietnam, Thanh Hoa offers a captivating blend of proud history, cultural traditions, and breathtaking natural landscapes. From its mountainous areas bordering Laos to its coastal regions, Thanh Hoa provides a diverse range of attractions and experiences that make it worth visiting. In this article, we will delve into the top reasons why Thanh Hoa is a destination worth adding to your travel itinerary.
Pu Luong Nature Reserve: A Paradise for Nature Enthusiasts
Discover the Untouched Beauty of Pu Luong Nature Reserve
Just a short distance from Thanh Hoa city lies the magnificent Pu Luong Nature Reserve. With its wild features, misty landscapes, and virtual ecology, Pu Luong offers an unforgettable experience for nature enthusiasts. Explore the Pu Luong peak, standing at over 1700 meters, and discover hidden gems such as the Son-Ba-Muoi caves, Kho Muong, and the Hieu village waterfall. Don't miss the opportunity to witness the unique wooden water wheels, which are characteristic of the Thai ethnic people in the area.
Sam Son Beach: A Tranquil Coastal Retreat
Indulge in the Beauty of Sam Son Beach
Situated just 16 kilometers from the city center, Sam Son Beach is a pristine coastal paradise that showcases the untouched natural beauty of Thanh Hoa. From its humble beginnings, Sam Son has transformed into a captivating destination with state-of-the-art accommodations, amazing resorts, and a variety of dining options. Despite its modern developments, Sam Son Beach has managed to preserve its natural sceneries, providing a serene atmosphere for relaxation and exploration.
Ho Dynasty Citadel: A Glimpse into Vietnam's Rich History
Uncover the Ancient Secrets of Ho Dynasty Citadel
For history enthusiasts, a visit to the Ho Dynasty Citadel is an absolute must. Located in Thanh Hoa province, this permanent citadel boasts a unique rock architecture that is rare to find in Vietnam. Built in the early 1400s, the citadel showcases the grandeur of the Ho Dynasty, which lasted only seven years. Marvel at the remnants of this UNESCO World Heritage site and explore the small museum within its walls. Although guided tours are mainly available in Vietnamese, the citadel's historical significance transcends language barriers.
Cam Luong Magic Fish Stream: A Natural Wonder
Immerse Yourself in the Magic of Cam Luong Fish Stream
Approximately 60 kilometers from Thanh Hoa city, the Cam Luong Magic Fish Stream is a renowned attraction in the province. The stream is home to a dense population of fish, preserved by the Muong and Thai ethnic groups, and has become a famous site for visitors. Explore the stream and witness the mesmerizing sight of the fish as they gracefully swim along the crystal-clear waters. Immerse yourself in the beauty of nature and capture unforgettable moments in this tranquil setting.
Ben En National Park: A Haven of Biodiversity
Experience the Rich Biodiversity of Ben En National Park
Venture 36 kilometers from the city center, and you'll discover the captivating Ben En National Park. Known for its mountainous landscapes, abundant rivers, streams, and lakes, this park offers a diverse ecosystem. One of the park's highlights is Muc Lake, spanning over 3,000 hectares and adorned with 21 midland islands. Experience the beauty of nature as you explore the park's trails, encounter various wildlife species, and appreciate the harmony between humans and the environment.
Dong Son Ancient Village: A Glimpse into Vietnam's Ancient Past
Step Back in Time at Dong Son Ancient Village
Formerly located in Dong Giang Commune, Dong Son Ancient Village is a historic gem in Thanh Hoa. Recognized not only in the province but also by Western scientists, this small village along the Ma River offers a glimpse into Vietnam's ancient past. Visit the village, now part of Ham Rong Ward in Thanh Hoa City, and delve into its rich cultural heritage. Experience the authenticity of the village and witness its traditional practices, reflecting the enduring traditions of the region.
Conclusion:
Thanh Hoa Province, with its undimmed beauty, offers a remarkable travel experience that is worth adding to your bucket list. From the captivating landscapes of Pu Luong Nature Reserve to the tranquil shores of Sam Son Beach, and the historical significance of the Ho Dynasty Citadel, Thanh Hoa offers a blend of natural wonders and cultural treasures. Embark on a journey through this land of proud history and breathtaking scenery, and create lasting memories in Thanh Hoa Province.
FAQs:
What is the best time to visit Thanh Hoa? The best time to visit Thanh Hoa is during the dry season, which falls between November and April. The weather is pleasant, and you can enjoy outdoor activities without much rainfall.
How can I get to Thanh Hoa Province? Thanh Hoa has its own airport, Tho Xuan Airport, which offers domestic flights. Alternatively, you can reach Thanh Hoa by train or bus from major cities in Vietnam.
Are there guided tours available in Thanh Hoa? Yes, guided tours are available for certain attractions in Thanh Hoa. However, it's recommended to check in advance as some tours might be conducted in Vietnamese only.
What are some local delicacies to try in Thanh Hoa? Thanh Hoa is known for its diverse culinary scene. Some local delicacies to try include nem chua (fermented pork roll), banh cuon Thanh Tri (rice noodle rolls), and banh gai (sticky rice cake).
Can I visit Thanh Hoa as a day trip from Hanoi? Yes, Thanh Hoa can be visited as a day trip from Hanoi, as it is approximately a three-hour drive away. However, to fully explore the province, it's recommended to stay overnight.
References: Reference Link: (Viet Vision Travel)