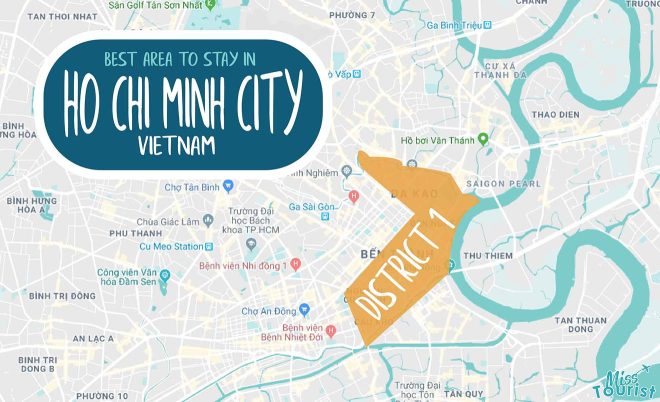 If you're looking for the perfect place to stay in Ho Chi Minh City (HCMC), District 1 should be at the top of your list. This vibrant district, located right in the heart of the city, is a favorite among visitors. It's no wonder why—it boasts a bustling nightlife scene and is home to many of the city's top tourist attractions.
By choosing to stay in District 1, you position yourself right in the center of all the action. You'll never have to worry about missing out on anything exciting. And when it comes to food, District 1 has got you covered. With a wide array of dining options, ranging from mouthwatering Italian wood-fired pizzas to traditional Vietnamese delicacies like bun cha, you'll never go hungry.
One of the great advantages of staying in District 1 is the proximity to major attractions. You can easily explore notable landmarks such as the iconic Bitexco Tower and Observation Deck, the stunning Notre Dame Cathedral of Saigon, the historic Gia Long Palace, and the famous Cafe Apartments that have become an Instagram sensation. Immerse yourself in the rich culture and history of the city by visiting the numerous museums and galleries scattered throughout this area.
After a day of exploration, there's no better way to unwind than by grabbing a refreshing beer (or maybe even two) on Bui Vien Walking Street. This vibrant street is famous for its lively atmosphere and is a favorite among backpackers and locals alike. By basing yourself in District 1, you'll truly get a taste of the quintessential HCMC experience.
So, while it's true that District 1 attracts a lot of backpackers, it's also undeniably the place where all the excitement happens. If you want to be at the center of the action, surrounded by vibrant energy, endless entertainment, and a vibrant food scene, District 1 is the perfect choice for your stay in HCMC.
What is the nicest district in Ho Chi Minh City?
When it comes to finding the perfect place to live in Ho Chi Minh City, many people consider District 3 as the ideal choice. This area offers a unique combination of convenience and tranquility that appeals to both expats and locals alike.
One of the major advantages of living in District 3 is its proximity to the bustling sights and activities of District 1. By choosing to reside here, expats can enjoy easy access to the vibrant energy of District 1 while still being able to retreat to a quieter and more peaceful environment for a good night's sleep. It's the best of both worlds.
For many young expats who prefer to be near the lively bars, restaurants, and shops of District 1, District 3 becomes an attractive option. It offers a range of recreational activities and parks to keep residents entertained. Whether you're looking for apartments, houses tucked away in charming alleys, or even old French colonial villas, District 3 has a variety of accommodation options to suit different preferences. And the best part is that prices here are generally more affordable compared to District 1, so you can get more value for your money.
Like in many other districts of the city, motorbikes and taxis are the preferred modes of transportation in District 3. However, it's worth noting that the district's narrow streets can sometimes experience traffic congestion, so it's important to be aware of that.
All in all, District 3 offers a wonderful living experience with its convenient location near District 1 and its quieter atmosphere. It's a neighborhood that provides a great balance between being part of the action and finding a peaceful haven to call home. Whether you're an expat or a local resident, District 3 has plenty to offer, and its more affordable prices make it an attractive choice for those seeking a comfortable and enjoyable lifestyle in Ho Chi Minh City.
Which district is best for nightlife in Ho Chi Minh?
Pham Ngu Lao, located in Ho Chi Minh City's District 1, is famously known as the "backpacker district." This vibrant area has become a magnet for budget travelers, offering affordable prices on a wide range of things, including food, drinks, and accommodation. If you're looking to stretch your travel budget while still having a fantastic time, Pham Ngu Lao is the place to be.
One of the main draws of Pham Ngu Lao is its thriving nightlife scene. The street is lined with bars that cater to every taste, ensuring that you'll find a spot to enjoy a few drinks and have a great time. Additionally, the area is home to numerous restaurants serving cuisine from around the world. Whether you're craving a slice of pizza, a plate of Pad Thai, or a bowl of pho, you'll find plenty of options to satisfy your taste buds. Pham Ngu Lao also boasts a high concentration of street food carts, offering a delicious array of local delicacies at incredibly affordable prices.
If you're a party enthusiast or simply want to immerse yourself in a lively atmosphere without breaking the bank, Pham Ngu Lao is the ideal place to stay. The district's affordable accommodations cater to budget travelers, providing a comfortable base from which to explore the city while keeping your expenses in check. By staying in Pham Ngu Lao, you'll be surrounded by fellow travelers who share your desire to have a memorable time without spending a fortune.
In summary, Pham Ngu Lao in District 1 is a haven for budget travelers seeking a vibrant nightlife and wallet-friendly experiences. With its abundance of bars, international restaurants, and street food options, you'll have no shortage of places to enjoy delicious meals and socialize with like-minded travelers. Choosing to stay in Pham Ngu Lao allows you to party and make the most of your time in Ho Chi Minh City without emptying your pockets. It's the perfect spot for those who want to have a blast while staying on a budget.
What is District 2 Ho Chi Minh called?
When it comes to expatriate communities in Ho Chi Minh City, District 2, and specifically Thảo Điền ward, takes the spotlight. This area is known for housing a significant number of expats, and as a result, it offers a wide array of amenities tailored to their tastes and preferences.
Thảo Điền ward, in particular, is a haven for those seeking a taste of Europe in the heart of Vietnam. Along the bustling street of Xuân Thủy, you'll find a multitude of restaurants, bars, and shops that specialize in European foods. Whether you're craving a comforting plate of pasta, a traditional British pub experience, or a delicious slice of pizza, Thảo Điền has got you covered. This vibrant area caters to the diverse palates of the expatriate community, ensuring that you can satisfy your cravings for European cuisine.
Moreover, Thảo Điền is not only a culinary hub but also a residential hotspot. The area is dotted with numerous large apartment developments, providing expats with modern and comfortable living spaces. These developments often come with a range of amenities and facilities to enhance the residents' quality of life.
By choosing to live in District 2, and particularly Thảo Điền ward, expatriates can immerse themselves in a community that understands their needs and desires. The abundance of European restaurants, bars, and shops on Xuân Thủy street ensures that you can find a taste of home while enjoying the vibrant atmosphere of Ho Chi Minh City. Additionally, the availability of spacious apartments in this area offers a comfortable and convenient living experience.
In summary, District 2's Thảo Điền ward is a thriving hub for the expatriate community in Ho Chi Minh City. With its diverse culinary scene, featuring European restaurants, bars, and shops, residents can indulge in familiar flavors. The presence of large apartment developments further enhances the appeal of this area, providing expats with modern and convenient living spaces. Whether you're looking for a taste of home or a welcoming community, Thảo Điền has everything you need to make your stay in Ho Chi Minh City a memorable one.