10 Exciting Things to Do in Hai Phong, Vietnam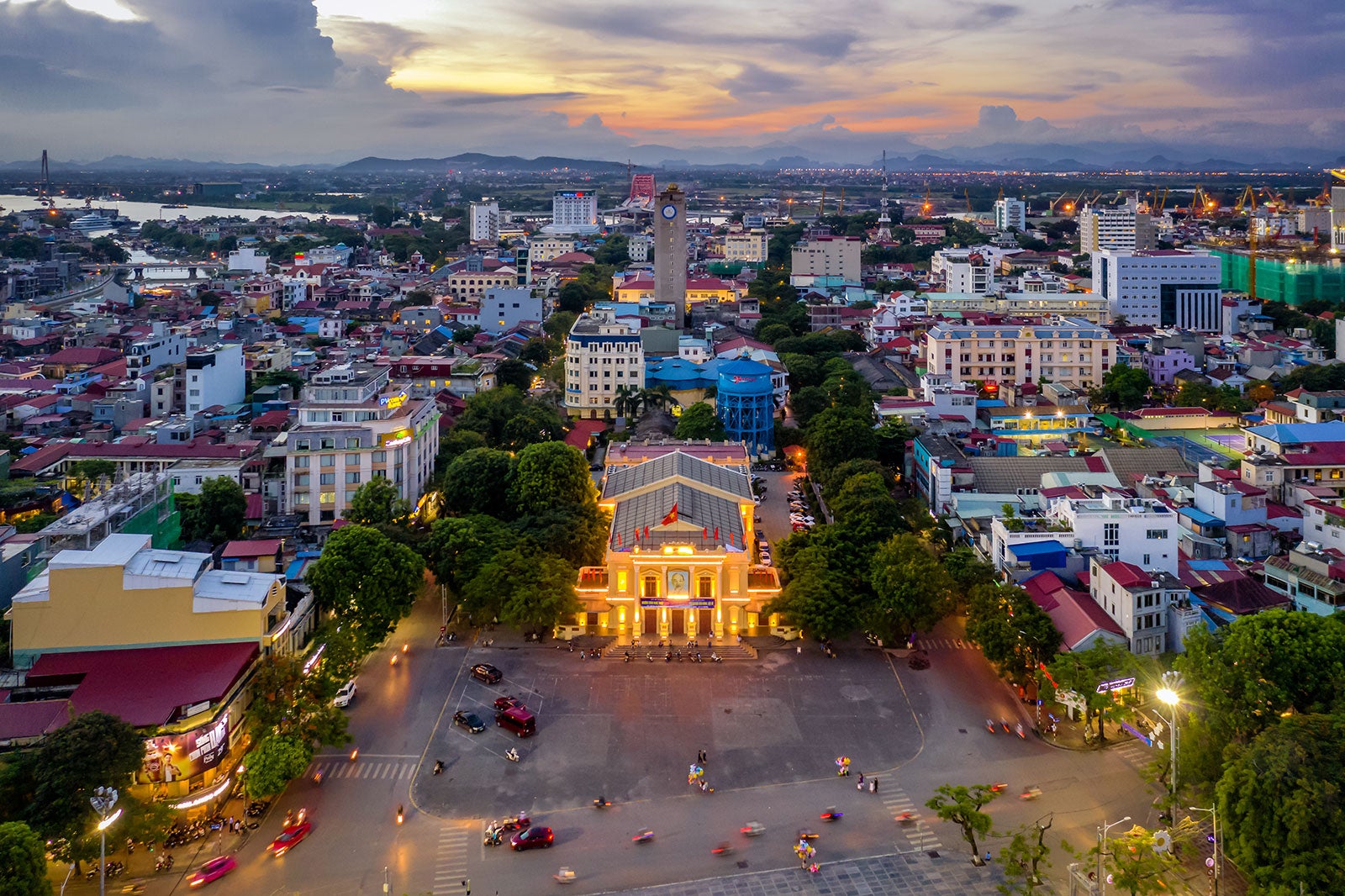 Are you planning a trip to Vietnam and looking for an off-the-beaten-path destination? Look no further than Hai Phong, a vibrant city located in the northern part of the country. While Hanoi and Ho Chi Minh City often steal the spotlight, Hai Phong offers a unique blend of history, natural beauty, and cultural experiences that are sure to leave you enchanted. In this article, we will explore the top 10 things to do in Hai Phong, ensuring an unforgettable adventure in this hidden gem of Vietnam.
What to do in hai phong vietnam ?
1. Cat Ba Island: Beach Hopping
Cat Ba Island is a must-visit destination for every traveler exploring Hai Phong. This picturesque island is part of the stunning Cat Ba Archipelago, nestled within the Lan Ha Bay. With its crystal-clear waters and breathtaking natural surroundings, Cat Ba Island offers a paradise for beach lovers. Spend your days beach hopping and enjoy swimming, diving, or simply soaking up the sun on the shores of the island. Don't miss the opportunity to explore the three popular swimming beaches, known for their pristine beauty and captivating seascape.
2. Hoi An Old Town: Go Cycling
While Hai Phong may not be as bustling as Hanoi or as ancient as Hoi An, it has its own charm that is worth discovering. Rent a bicycle and embark on a cycling adventure through the streets of "Tay City" or Pho Tay, as the locals call it. Follow the route from Hai Phong Opera House Theatre to Lac Long Bridge and Tam Bac Bank, capturing the vibrant essence of the city. Take a moment to visit the Ancient Village near Binh Ferry, admire the Cathedral, and indulge in a cup of local coffee while observing the daily life of the Hai Phong residents. To witness the serenity of the city, don't forget to catch the breathtaking sunset on Tam Bac River.
3. Hai Phong Museum: Peek Into Vietnam's Past
If you have a keen interest in history and culture, a visit to the Hai Phong Museum is a must. This remarkable museum offers a fascinating glimpse into Vietnam's rich past and showcases a wide range of exhibits that highlight the city's heritage. Explore the museum's collections, which include artifacts, photographs, and documents spanning various periods of Vietnamese history. From ancient relics to displays about the city's maritime traditions and wartime experiences, the Hai Phong Museum provides a comprehensive overview of the region's cultural significance.
4. Municipal Theatre: Watch a Show
For a touch of artistic flair, immerse yourself in the vibrant performing arts scene of Hai Phong by attending a show at the Municipal Theatre. This architectural masterpiece boasts an elegant French colonial design and hosts a variety of cultural performances, including traditional Vietnamese music, dance, and theatrical productions. Experience the enchantment of live performances that showcase the rich artistic heritage of Vietnam, leaving you captivated by the talent and passion of the performers.
5. Nghe Temple: Offer Prayers
Pay a visit to the sacred Nghe Temple, an important religious site in Hai Phong. This ancient temple is dedicated to Tran Hung Dao, a revered Vietnamese general and national hero. Step into a tranquil world as you enter the temple's serene grounds, adorned with intricate architectural details and surrounded by lush greenery. Take a moment to offer prayers, seek blessings, and immerse yourself in the spiritual ambiance of this significant cultural landmark.
6. Hai Phong Restaurants: Enjoy Street Food
One of the highlights of any trip to Vietnam is undoubtedly the culinary experience. Hai Phong is no exception, offering a delightful array of street food that will tantalize your taste buds. Explore the local markets and street stalls to sample authentic Vietnamese cuisine. Indulge in delicious dishes such as pho (Vietnamese noodle soup), banh mi (baguette sandwiches), and fresh seafood prepared in traditional Vietnamese style. Don't miss the opportunity to savor the flavors of Hai Phong and immerse yourself in the vibrant street food culture.
7. Tam Bac Lake: Go Fishing
For a tranquil escape from the city's hustle and bustle, head to Tam Bac Lake, a serene oasis in Hai Phong. Engage in the local pastime of fishing and experience the simple joy of casting a line into the calm waters of the lake. Whether you are an experienced angler or a beginner, this peaceful activity allows you to unwind and connect with nature. Enjoy the breathtaking views surrounding the lake and embrace the tranquility that Tam Bac offers.
8. Du Hang Pagoda: Seek Blessings
Discover the spiritual side of Hai Phong by visiting Du Hang Pagoda, a revered Buddhist temple in the heart of the city. Immerse yourself in the serene atmosphere as you explore the pagoda's intricate architecture and intricate Buddhist sculptures. Seek blessings and pay homage to the deities while experiencing the peaceful ambiance that radiates throughout this sacred place. Take a moment to appreciate the beautiful gardens and enjoy a sense of tranquility amidst the bustling city.
9. Do Son Beach: Stay in a Seaside Resort
Escape to Do Son Beach, a captivating coastal retreat just a short distance from Hai Phong. This idyllic beach offers a perfect blend of relaxation and adventure. Indulge in the golden sands and refreshing waters, unwind under the shade of palm trees, or take part in thrilling water sports such as jet skiing or parasailing. To enhance your experience, consider staying at one of the seaside resorts that offer stunning views of the beach and provide a tranquil haven during your stay in Hai Phong.
10. Trang Kenh: Explore
Complete your Hai Phong adventure by exploring Trang Kenh, a hidden gem that showcases the region's natural beauty. Trang Kenh is a picturesque limestone cave system located in the nearby town of An Lao. Embark on an exciting cave exploration journey, marvel at the stunning rock formations, and witness the fascinating interplay of light and shadow within the caves. This unique natural wonder is sure to leave you in awe of the geological marvels that exist in Hai Phong's vicinity.
Conclusion
Hai Phong, Vietnam's hidden gem, offers a plethora of exciting activities and attractions for every type of traveler. From exploring the pristine beaches of Cat Ba Island to immersing yourself in the rich cultural heritage of Hai Phong Museum, there is something for everyone in this vibrant city. Whether you seek adventure, relaxation, or a deeper connection with Vietnamese history and traditions, Hai Phong will captivate your heart and leave you with cherished memories of an unforgettable journey.
FAQs
1. How do I get to Hai Phong?
Hai Phong is easily accessible by air, land, and water. The city has its own international airport, Cat Bi International Airport, which offers domestic and international flights. You can also reach Hai Phong by train or bus from other major cities in Vietnam. Additionally, there are ferry services connecting Hai Phong to popular destinations such as Halong Bay and Cat Ba Island.
2. What is the best time to visit Hai Phong?
The best time to visit Hai Phong is during the months of March to May and September to November when the weather is pleasant and rainfall is relatively low. These months offer comfortable temperatures for outdoor activities and sightseeing. However, Hai Phong can be visited year-round, and each season has its own charm and unique experiences to offer.
3. Are there any cultural festivals in Hai Phong?
Yes, Hai Phong hosts several cultural festivals throughout the year. One of the most significant festivals is the Do Son Buffalo Fighting Festival, which takes place annually in the eighth lunar month. This traditional event showcases the local culture and features thrilling buffalo fights. Other festivals include the Cat Ba Island Tourism Week and the Hai Phong Carnival, which celebrate the city's natural beauty and vibrant spirit.
4. Can I visit Cat Ba Island from Hai Phong?
Yes, Cat Ba Island is easily accessible from Hai Phong. You can take a ferry from Hai Phong to Cat Ba Island, which offers stunning landscapes, beautiful beaches, and opportunities for hiking, kayaking, and exploring the Cat Ba National Park. It's recommended to spend at least a day on Cat Ba Island to fully enjoy its natural beauty and attractions.
5. What are some recommended dishes to try in Hai Phong?
When visiting Hai Phong, be sure to try some of the local culinary delights. Some popular dishes include banh da cua (crab noodle soup), banh da cua Hai Phong (Hai Phong-style crab noodles), nem cua be (crab spring rolls), and ca cuon rau muong (fish rolls with water spinach). These dishes showcase the unique flavors of Hai Phong's cuisine and are a must-try for food enthusiasts.
Reference: Tripadvisor – Hai Phong Attractions