Exploring the Beauty of Thanh Hoa: Top Things to Do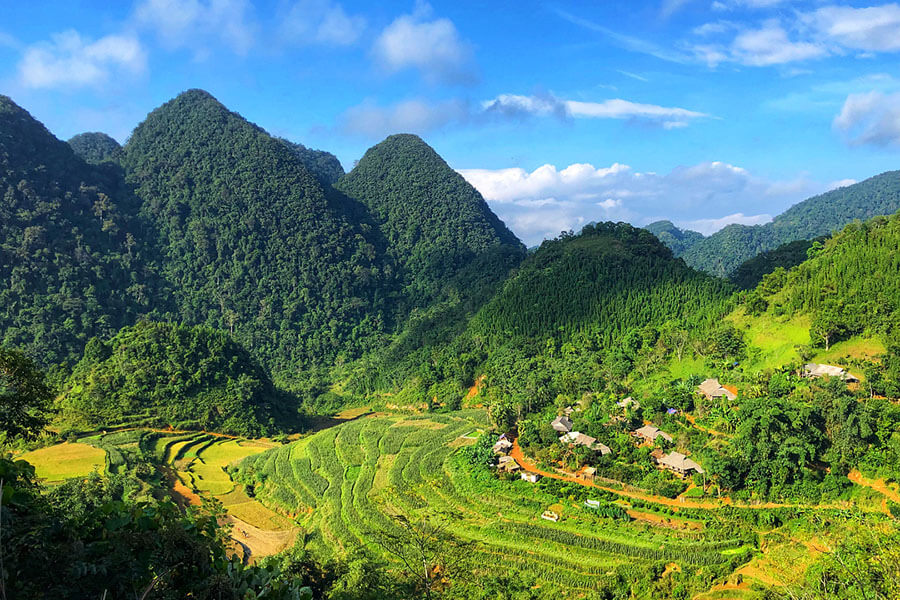 Are you planning a trip to Thanh Hoa and wondering what activities and attractions await you in this stunning Vietnamese province? Look no further! In this comprehensive guide, we will take you through the top things to do and must-visit attractions in Thanh Hoa, ensuring an unforgettable experience in this land of undimmed beauty.
Pu Luong Nature Reserve: A Tranquil Escape
One of the highlights of Thanh Hoa is the Pu Luong Nature Reserve. Nestled in the northwest of Thanh Hoa city, this reserve is a paradise for nature lovers. With its wild features, mist-shrouded landscapes, and virtual ecology, Pu Luong offers an enchanting escape from the hustle and bustle of city life. Don't miss the opportunity to explore Pu Luong peak, Son-Ba-Muoi caves, Kho Muong, and the picturesque Hieu village waterfall. As you wander through the reserve, you'll encounter the characteristic wooden water wheels, a testament to the rich cultural heritage of the Thai ethnic people.
Sun, Sand, and Serenity: Sam Son Beach
For those seeking relaxation and natural beauty, Sam Son Beach is a must-visit destination in Thanh Hoa. Located just 16 kilometers from the city center, this beach has transformed from a rustic spot to a vibrant tourist hub. Sam Son Beach boasts state-of-the-art accommodations, amazing resorts, and a variety of restaurants, all while retaining its untouched natural sceneries. Whether you want to bask in the sun, take a refreshing swim, or simply enjoy a leisurely stroll along the shore, Sam Son Beach offers a serene coastal experience.
 Ho Dynasty Citadel: A Glimpse into the Past
Step back in time and explore the historic Ho Dynasty Citadel, the capital of Dai Ngu during the Ho Dynasty. Situated in Thanh Hoa province, this permanent citadel features unique rock architecture on a large scale, making it a rare gem in Vietnam and Southeast Asia. Built in the early 1400s, the citadel is a testament to the remarkable architectural skills of its designer, who is said to have also contributed to the design of the Forbidden City in Beijing. Take a guided tour or explore the small museum within the citadel to delve deeper into its rich history.
 Cam Luong Magic Fish Stream: A Natural Wonder
If you're fascinated by nature's wonders, a visit to the Cam Luong Magic Fish Stream should be on your itinerary. Located 60 kilometers from Thanh Hoa city, this stream is home to a dense population of fish and is cherished and preserved by the Muong and Thai ethnic groups. The magic fish stream has become famous for its captivating scenery and the mesmerizing sight of fish swimming against the current. Immerse yourself in the tranquility of this natural oasis and witness the harmony between humans and nature.
Ben En National Park: A Paradise for Nature Enthusiasts
For a dose of adventure and exploration, head to Ben En National Park, situated just 36 kilometers from Thanh Hoa's city center. This park is a haven for nature enthusiasts, boasting a mountainous landscape adorned with rivers, streams, and lakes. The highlight of Ben En National Park is Muc Lake, a sprawling body of water spanning 3,000 hectares and adorned with 21 midland islands. The diverse ecosystem here offers opportunities for hiking, wildlife spotting, and immersing yourself in the beauty of nature.
Dong Son Ancient Village: Stepping into the Past
Step into history with a visit to Dong Son Ancient Village, a renowned historical site in Thanh Hoa. Formerly belonging to Dong Giang Commune and now part of Ham Rong Ward in Thanh Hoa City, this village has captured the attention of Western scientists for its ancient significance. Situated on the south bank of the Ma River, Dong Son Village offers a glimpse into the past with its well-preserved relics and artifacts. Wander through the village and marvel at the remnants of a bygone era.
 Immerse in Local Culture: Thanh Hoa Festivals
To truly immerse yourself in the local culture of Thanh Hoa, plan your visit during one of the vibrant festivals that take place throughout the year. The Lam Kinh Festival, held annually in February, celebrates the national hero Le Loi and showcases traditional music, dance, and martial arts performances. Another notable festival is the Ho Dynasty Citadel Festival, which pays homage to the historical significance of the citadel. These festivals offer a unique opportunity to witness traditional customs, indulge in local cuisine, and experience the warmth and hospitality of the people of Thanh Hoa.
 Delightful Cuisine: Thanh Hoa's Gastronomic Delights
No visit to Thanh Hoa is complete without savoring the local cuisine. Indulge in the province's culinary delights, such as the famous "cha cuon" (grilled pork rolls), "banh cuon Thanh Tri" (steamed rice rolls), and "nem chua" (fermented pork roll). These flavorsome dishes, prepared with local ingredients and traditional techniques, will tantalize your taste buds and provide a true taste of Thanh Hoa's gastronomic heritage.
 Experience Thanh Hoa: Plan Your Visit Today!
From the breathtaking landscapes of Pu Luong Nature Reserve to the historical marvels of the Ho Dynasty Citadel, Thanh Hoa offers a diverse range of experiences for every traveler. Whether you seek adventure, cultural immersion, or simply a tranquil retreat, this Vietnamese province has something to offer. Plan your visit to Thanh Hoa today and embark on a journey of discovery, where natural beauty, rich history, and warm hospitality await.
Conclusion
With its awe-inspiring natural landscapes, historical sites, and vibrant culture, Thanh Hoa is a treasure trove of experiences waiting to be explored. From the tranquil Pu Luong Nature Reserve to the bustling Sam Son Beach, there is something for everyone in this captivating Vietnamese province. Immerse yourself in the beauty of Thanh Hoa, indulge in its delicious cuisine, and create memories that will last a lifetime.
FAQs
Q1: How can I reach Thanh Hoa?
A1: Thanh Hoa is accessible by air, with Tho Xuan Airport serving as the nearest airport. It is also well-connected by road and rail networks, making it easily reachable from major cities in Vietnam.
Q2: What is the best time to visit Thanh Hoa?
A2: The best time to visit Thanh Hoa is during the dry season, which typically falls between November and April. The weather is pleasant, and you can enjoy outdoor activities and explore the attractions without much rainfall.
Q3: Are there accommodations available in Thanh Hoa?
A3: Yes, Thanh Hoa offers a range of accommodations to suit different budgets and preferences. From luxury resorts to guesthouses and homestays, you will find options that cater to your needs.
Q4: Are English-speaking guides available in Thanh Hoa?
A4: While English-speaking guides may be available at some tourist sites, it is advisable to hire a local guide who can provide deeper insights into the attractions and help with language barriers.
Q5: Is it safe to travel to Thanh Hoa?
A5: Thanh Hoa is generally a safe destination for travelers. However, it is always recommended to take necessary precautions, such as staying vigilant, keeping your belongings secure, and following local customs and regulations.
References: